About Two Dames and Friends
Two Dames and Friends is a small family business that works seamlessly with other local companies to provide all the services needed to tackle your move and prep your home for the market. We believe in supporting our communities, so we partner with local businesses.
Tracey Neary
Owner/CEO
Tracey started the company in 2006. She and a dear friend dreamt up Two Dames as an Organizing company. The company changed its focus after Tracey and her sister downsized and moved their mom from long-distance. Helping families with every aspect of moving and prepping homes became the mission of the small organizing company.
Our Other Friends
Our team consists of hardworking individuals with different skillsets who come together to help you reach your goals.
We have a variety of local service providers and licensed contractors we can call on as needed. These skilled craftspeople work with us to paint, fix, and renew your home.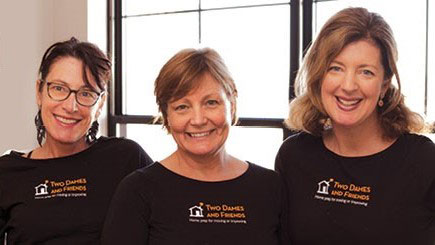 Consultation
The process begins with a free hour consultation to learn about you, your needs, and your vision.
Project Plan
We will then write up a project plan, including all the details of the project and the pricing.
Implementation
We partner with you to get the job done!
Our commitment is to help you achieve YOUR goals
Our commitment to achieving your goals in all our services, including home design, home staging, home prep, estate cleanout, and move management, has been widely appreciated. We maintain affordability for all of our services and help you stay within your budget goals.
We partner with you and provide updates as we go through the process of prepping your home every step of the way.
We Have Expertise
We have years of experience and expertise in the real estate industry. We have successfully created a niche as one of the most trusted companies in Minneapolis and the broader Twin Cities.
Our Work Speaks for Itself
Our Commitment is to Help you Achieve YOUR Goals